Great Pagoda and Agius Evolution Garden
News / 18th Feb 2020
Written by Peter Styles

As part of the AGM festivities at Royal Botanic Gardens, Kew we were invited to view the recently completed Agius Evolution Garden which replaces the old Order Beds. Those of us who were horticulturists and students at Kew will well remember working on the old beds. Our host for the event was Kew's Director of Horticulture, Learning and Operations, Richard Barley, who kindly gave up his Saturday morning to show us around the Garden.
Completed in mid-2019 the Garden covers 1.3 acres and is filled with about 700 species and varieties of plants. Divided into a series of rooms the design has been skillfully conceived by Richard Wilford, Kew's own 'in house landscape designer'. The planting follows a natural evolutionary trail, unlike the former Order Beds with their formal plant classifications.
The plant evolution story starts 350 million years ago. Ferns, Cycads and Equisetums form some of the first plant groupings in the Garden, moving through Magnolia and Palm species and finally to the main flowering plants species and families. Each section of the Garden tells a different, interesting story, which is well supported with first rate interpretive information.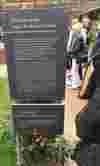 Richard Barley talks to members and guests.

A colourful display in the Agius evolution garden.
An opportunity in the creation of the Garden has been taken in the use of DNA plant analysis to inform the plant groups. This has revealed some interesting plant relationships .Peonies for example are not related to Ranuculus despite their similar flower structures. They are in fact related to Saxifrages.
The Garden was generously funded by Kew's then Chair of Trustees, Marcus Agius and his wife Kate de Rothschild Agius, sister of Lionel de Rothschild, whose hospitality we all enjoyed in our visit to Exbury Gardens in May 2017 (Journal number 122).
We thanked Richard Barley for a fascinating insight into plant evolution and the way that Kew is engaging more on a plant science level with the visitors to Kew.


Richard explains the Agius Garden.
The event then continued with a visit to the recently restored Great Pagoda, a much loved Kew icon, reopened in 2018 after many years of closure. Organised by Bob Ivison, ten members and guests were allowed free access to the Pagoda, courtesy of the Historic Royal Palaces who manage this fine 18th century structure. 253 steps were climbed to the top. Looking out from the top storey across the Arboretum one feels that there is scope for some of Richard Wilford's magic to rework the shrub island beds!
One interesting fact about the famous finial dragons that adorn the roof is that there are only 8 dragons traditionally carved from African cedarwood – the other 72 are produced by modern 3D printing with a plastic material!
Some of us concluded our very informative morning with a splendid lunch at the new Pavilion restaurant.