June 2023 News
News / 23rd Jun 2023
The newsletter of the Kew Guild President June 2023

Welcome to the newsletter of the Kew Guild President 2023
Dear Kewites and friends,
We hope this newsletter finds you well and managing to cope with the intense heat and weather that has been with us across the country over the last 6 weeks.
Our gardens and the plants we grow and care for are certainly having to change and adapt as we embrace the continued extremes of climate and change, (we only need to look at the last 12 months to see such a looming picture). Over the last few years, I have found myself being interviewed more frequently with regard to our famed Dry Garden at RHS Hyde Hall, as press and the public's interest turn to professional organisations for guidance and understanding about growing plants that will withstand our future climates.
For me, in this world of understanding the direction in what we should do, I like to look at us learning and understanding collectively, but also embracing what we have learnt with what is right in front of us. With regard to Hyde Hall and my garden at home, I find it fascinating that there is hope in little pockets and niches, where plants that you would think we would have lost, have actually survived or even thrived. It gives me hope for the future.
So with that little piece on climate change and gardening, I hope you can relate my connection and similar comparison with the Kew Guild. As you know we are needing to embrace the change that is inevitable. We are trying to understand more and develop. We need your support, thoughts and understanding and we are starting by looking at what is right in front of us.
Therefore the trustees are working in small pockets, (niches) to gather and understand more about the Kew Guild, its membership, its events, its opportunities and what it delivers. Like adapting to climate change, some things can be easily implemented and others will take longer to work on.
Most importantly, we have our AGM on September 9th at Kew, and I would like to actively encourage you to come along and join us and contribute to the Kew Guild changing story. The itinerary for the day is being planned, and will include the unveiling of a commemorative bench for our late President, Graham Heywood.
We are making direction and I am a great believer that it is not too late. I have hope so be a part of that hope too!
Have a great summer and see you at the AGM.
Floreat Kew, Rob Brett, Acting President.
The Kew Guild Annual Dinner 2023
Celebrating the 130th anniversary of the Kew Guild, the Annual Dinner was held on Thursday 25th May 2023 in Cambridge Cottage. The assembled company were happy to be there on what was a beautiful end to a lovely day, the evening sunshine lighting up the room. Speaker Dr Tim Upson reflected on his career and his journey in horticulture. An anniversary celebration cake was donated by one of our Trustees and this proved very popular with the guests. Another Trustee sponsored eight student tickets, and in total there were 12 students in attendance.
Trustee Brita von Schoenaich has been tasked with reviewing the Annual Dinner to make it more attractive to the wider membership and students alike. We look forward to hearing those ideas which will be conveyed to you in a newsletter and on the web site in due course.
Awards
At the Annual Dinner, Cyril Giles and Tony Overland were jointly honoured with the George Brown Award. Congratulations to them, and we thank them for their furthering communication and diplomacy in the true spirit of the Kew Guild. Unfortunately Cyril could not attend the dinner, so his award was accepted by his son Shane.
Journal
The Journal has been posted so you should be receiving this in the next day or so, if you haven't already. Our new Editor, Ros Whistance found this a daunting task, especially following in the very large footsteps of the Ward Family.
Trustees took the decision to remove names and addresses of members from the Journal. In these days of Data Protection it was felt that this was a very outdated practice. If you want to contact any member, please email Sara in the first instance and she will be happy to help.
So what's new?
Membership cards are on the way, the Trustees are in the process of approving the design for this year. Look out for yours through your letterbox soon. Keep this safe as some new initiatives are being planned where it will come in very handy!
Have you checked out our new web site? With the facility to apply for membership and apply for awards online, this makes life much easier for the admin team. Trustees and officers are slowly getting to grips with uploading articles and the full Annual Dinner report will be available soon. The biographies of Kewites page is being populated, so if you have any suggestions or additions, please contact Secretary, Sara.
The Guild are happy to be sponsoring the one-year Introduction to Horticulture programme for a second year. The aim of the programme is to encourage greater ethnic diversity in horticulture by targeting ethnic minority groups by creating an introduction to horticulture programme.
Membership
In order to increase membership, a working group has been established. A workshop has been arranged in August for Trustees and Student Representatives to discuss and plan for the future.
Sad loss
Being the bearer of sad news, Peter Thoday died on the 5th May 2023. A long standing supporter of the Guild, Peter will be sorely missed. A comprehensive obituary appeared in the Guardian: https://www.theguardian.com/lifeandstyle/2023/jun/18/peter-thoday-obituary 
Date for your Diary
Kew Guild AGM – 9th September 2023 Lady Lisa Sainsbury Lecture Theatre at 2.00pm.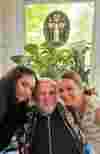 News of Kewite:
Member Bob Hebb and his two daughters. Bob organised the very successful trip to the USA a few years ago.